As a lifelong enthusiast of the arts, artist Gabrielle Fischer has devoted her life to learning and practicing her artistic craft of mold making. Gabrielle has been mentored by teachers at notable art academies through the US and Canada. The Art Student League of NY, Scottsdale Art School in Arizona, Pink House Casting in Vermont, and the Koffler Centre of the Arts in Toronto, to name a few.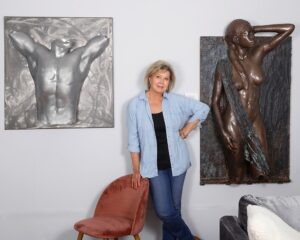 In the early 90's, while in attendance at an arts & crafts trade show in New York, Gabrielle discovered a skin safe molding cream that would add a new element to her art. Fascinated by this impression material, she started mold making. Beginning with children's hands for family and friends.
A creative soul in every measure, Gabrielle has been heavily reliant on her hands to not only sculpt and create, but to enjoy her other favorite activities, including gardening and cooking.
How Mold Making Became My Life
"Mold making has been hugely satisfying. The hands are so integral to our ability to work and create, and they are usually our first point of connection when we physically connect with others. So, creating sculptures from 3D casting impressions of mothers' hands with their babies, or a bride and groom, is giving them a way to tangibly hold that moment in time."
As word spread, requests for larger castings made Gabrielle realize she needed to fast track and study with notable life casting artists.
"The creative license to incorporate body casting with sculpture fascinated me. Requests for personalized sculptures inspired me to bring out the best possible pose for each person I worked with. These sculptures were artistically designed for posterity and would reflect their essence for generations."
Becoming One With The Artistic Process
For the past 20+ years, Gabrielle has been building an impressive resume. With live performance casting at shows and exhibitions, interviews on television, in magazines and newspapers, she is now widely regarded as an expert in this artistic niche.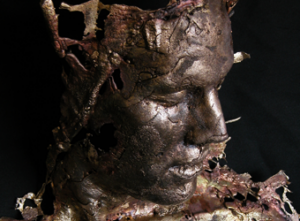 She has worked with and created busts for multiple celebrities including boxing legends Jake LaMotta, George Chuvalo, Ken Norton, artist Robert Bateman, guitarist Don Ross, musician Walter Ostanek, as well as a wide range of bodybuilders, dancers and politicians. Some casting sculptures were commissioned in bronze for gallery exhibitions.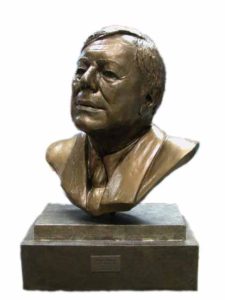 Now Gabrielle has turned her attention to passing on her knowledge to people who want to learn to do mold making for themselves. Her Catch The Moments | Life Casting School of Art was born out of the many requests from individuals – moms in particular – wishing to create a home business in a lucrative and creative space.
"I think an artist has a responsibility to teach, to pass on acquired experiences not available in books. Experiencing various mediums and methods in the arts is an important part in the learning curve."
Creating An Art Based Home Business
As a mom, Gabrielle remembers the challenges in raising a family while simultaneously working on her craft.
"Your children become your focal point. It's very easy to lose yourself and your connection with your own creative pursuits while still being fully engaged as a parent. That's who I'm trying to reach. The mom who dreams of both contributing to the family finances by running a mold making home-based business, while also providing a way for her to tap into her own creativity and connect with others.

Anyone with an entrepreneurial spirit wishing to express their creativity and realize the value they offer to the public will be welcome to join this fascinating recession proof industry. Babies are always being born. And families are always looking for a way to hang onto that memory."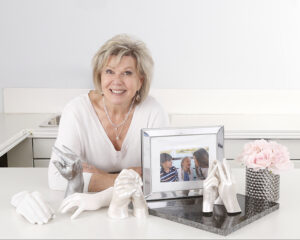 But First, Know Why You Are Doing It
Before starting your own business, she encourages people to "know their why". According to Gabrielle, your "why" should involve decisions on the dynamics of your family and how to monetize your time.
She advises that it's important to find genuine joy in your business, and it should be more than just making money.
It should satisfy your passion to do something creative, provide a way to give back to the community and bring joy into the lives of others.
"Creating life casting impressions for your clients gives you that opportunity. If you love making a positive impact on people's lives, learning how to create body casting sculptures will help you capture time sensitive moments that will remain in that person's life forever. An heirloom passed down through generations."
And with so many significant occasions in our lives, you'll always have a customer. Those special moments, such as the birth of a child, engagements, weddings, graduations, birthdays and even end of life reflection.
Making these keepsakes for others is life changing. Making your own mold is a moment worth catching.