What's Included in the
3 Day In-Studio Workshop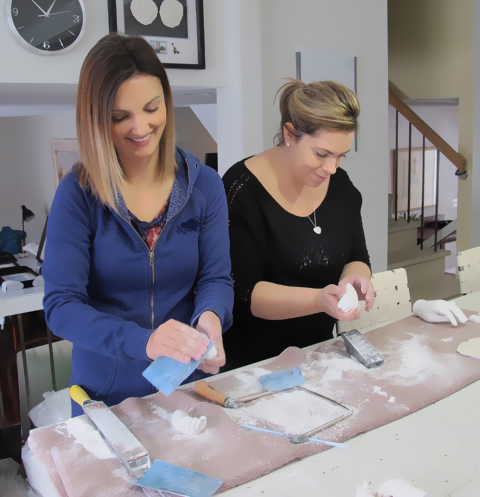 Prenatal belly casting sculptures
Baby hand and feet impressions
Mom and baby holding hands
How to frame in deep shadow box frames
Understanding framing formats
Raised Impressions as Medallions
Workshop Schedule
New in-person workshop dates are opening up.  Please contact me for more information.
Workshop to Create a Business From Home
How to create prenatal belly casting with models
Create a mother and child embrace hand casting composition
How to create raised impression medallions & how to frame
Create 3D impressions of baby feet and hands
Learn to assemble castings and picture in a deep shadow box
Designing and casting a Family or Friends Group sculpture composition
Receive a Binder with Information to set up your business
Receive continued support and access weekly webinars
Just a note to let you know how very inspired you have made me feel. Your patience, guidance and talent, have opened up my creative side again. Finding you on your website was perfect timing.  Your talent has given me the incentive to pursue this new adventure in my life.  Thank you for opening those doors.  I do plan on taking a few more classes with you Gabrielle.
In-Studio Course Breakdown
Current 2023 pricing for 2 Day workshops are $2,600 CAD per person and 3 Day workshops are $3,600 CAD per person.
Please contact me for more information on upcoming workshops and pricing.
Day 1
– Prenatal Casting with model
– Two applications – a) small cast with alginate, b) large cast with plaster bandage.
– Plaster bandage design and decoration options.
– How to re-enforce both castings
– How to prepare both sculptures for either wall hanging or standing base
– How to mix 3 min. alginate using proper proportions and water temperature
– What tools and materials to use and where to purchase on going supplies
– Discussion with regard to operating a business from home
– Marketing information, list of wholesalers and ongoing support
Day 2
– Adult hand casting using 3 min. alginate
– Visit from Mom and baby for two hand and two feet casting sculptures.
– Mother and child hand casting composition and method
– How to create Medallion and Free Form castings
– How to create a Group Casting Composition
– How to mix and pour casting stone to create "the positive"
– De-molding your castings – what tools to use – Problem solving discussion
– Create additional samples to take home
Day 3
– Completion of all casting sculptures
– Preparing castings for framing
– What finishes and sealers to use
– Understanding framing techniques and formats developed by Life Casting School of Art
– How to prepare and secure the sculptures in-to the shadow box
– Finishing your frames for presentation
– Understanding acid free mats and why it is important
– Presentation of Certificate of Completion from Life Casting School of Art
We have included an optional day to Add to the Workshop – or – to Switch Day 1 for Day 4. Please request more information and details.
Day 4
Morning Class
Glass Effects Baby Feet
Working with new mold method from the positive baby foot
Product used and safety
Mixing proportions
Time laps required for setting of rubber
Working with resin
Coloring resin
Creating the positive
Tools, materials required for this specialized method
Where to purchase products
Problem solving
Costs and profit margins
Marketing information
Binder with printed directions
Ongoing support
Afternoon Class
Silver Fingerprint Jewelry
What is silver clay?
Where to purchase necessary materials
Preparation method for imprint
Shapes and shaping your charm
Molds and shaping tools
Drying time required
Firing methods and supplies
Oxidizers and Colorants
Using chains, findings
Binder with printed directions
Ongoing support
All tools and supplies are included for the class workshop
Please request more information regarding this option.
Adding the 4th Day will require additional cost.
Substituting Day 1 for Day 4 requires additional materials and therefore an additional small charge.